2019 | OriginalPaper | Chapter
B
in

T

rimmer

: Towards Static Binary Debloating Through Abstract Interpretation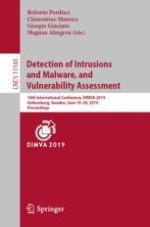 Read first chapter
Authors: Nilo Redini, Ruoyu Wang, Aravind Machiry, Yan Shoshitaishvili, Giovanni Vigna, Christopher Kruegel
Publisher: Springer International Publishing
Abstract
The increasing complexity of modern programs motivates software engineers to often rely on the support of third-party libraries. Although this practice allows application developers to achieve a compelling time-to-market, it often makes the final product
bloated
with conspicuous chunks of
unused
code. Other than making a program unnecessarily large, this dormant code could be leveraged by willful attackers to harm users. As a consequence, several techniques have been recently proposed to perform
program debloating
and remove (or secure) dead code from applications. However, state-of-the-art approaches are either based on unsound strategies, thus producing unreliable results, or pose too strict assumptions on the program itself.
In this work, we propose a novel abstract domain, called
Signedness-Agnostic Strided Interval
, which we use as the cornerstone to design a novel and sound static technique, based on abstract interpretation, to
reliably
perform program debloating. Throughout the paper, we detail the specifics of our approach and show its effectiveness and usefulness by implementing it in a tool, called
BinTrimmer
, to perform static program debloating on binaries.
Our evaluation shows that
BinTrimmer
can remove up to 65.6% of a library's code and that our domain is, on average, 98% more precise than the related work.