01-09-2014 | Issue 17/2014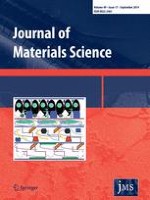 Bio-inspired synthesis of mesoporous sílicas using large molecular weight poly-
l

-lysine at neutral pH
Journal:
Authors:

João Pires, Ana C. Fernandes, Romeu Avó
Important notes
Electronic supplementary material
The online version of this article (doi:
10.​1007/​s10853-014-8335-8
) contains supplementary material, which is available to authorized users.
Abstract
Among the various types of amorphous silica-based materials, those that have mesopores (pore widths between 2 and 50 nm) constitute an important group. Silica mesoporous materials have been considered in fields such as catalysis, adsorption, sensing, and electronics or, more recently in drug delivery. The synthesis of silica mesoporous materials usually involves corrosive reaction media and high temperatures. Nevertheless, some living organisms such as diatoms or sponges produce silica in non-corrosive environments and at ambient temperatures. Important progress has been achieved in the synthesis of silica-based materials by biomimetic or bio-inspired methodologies, but the number of studies that use biomolecules and address specifically the preparation of mesoporous materials is reduced. We report in this work, to our knowledge for the first time, a methodology to obtain mesoporous silicas that involves, simultaneously, a biomolecule (poly-
l
-lysine) and neutral pH. The prepared materials have pores with widths between 2 and 8 nm and specific surface areas between 232 and 616 m
2
g
−1
.