Published in: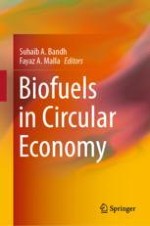 2022 | OriginalPaper | Chapter
Biofuels: Potential Alternatives to Fossil Fuels
Authors : Fayaz A. Malla, Suhaib A. Bandh, Shahid A. Wani, Anh Tuan Hoang, Nazir Ahmad Sofi
Published in: Biofuels in Circular Economy
Publisher: Springer Nature Singapore
Abstract
Today's world faces two challenges: energy shortage and environmental pollution. Fossil fuels for power generation and transportation have caused high carbon dioxide emissions (CO2) to the environment. Renewable energy plays a vital role in the global and domestic approach to the mitigation of energy and environmental issues. Some renewable energy sources, including solar energy, wind, bioenergy, geothermal energy, hydroelectricity, and ocean energy, have a lower environmental impact than fossil fuels. In comparison with fossil fuels, biofuels are a source of renewable energy that can guarantee the country's economy while preserving the natural climate. It appears that only microalgae can replace fossil fuels as feedstock. It's common to grow microalgae in photo-bioreactors or huge open ponds. The carbon dioxide produced due to the combustion of biofuel is recycled in photosynthesis for biodiesel production. In coal co-firing, microalgae can produce electricity to reduce greenhouse emissions and lower coal consumption. Moreover, bioethanol and biodiesel can replace two primary fossil fuels (gasoline and diesel) used in the transportation sector.