Published in: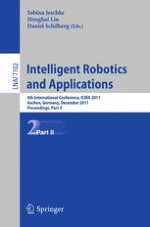 2011 | OriginalPaper | Chapter
Biomechatronics for Embodied Intelligence of an Insectoid Robot
In this paper, the design and development of the new hexapod robot HECTOR is described. To benefit from bio-inspired control approaches for walking, it is fundamental to identify the most important morphological and biomechanical aspects and to associate them with biological control approaches whose function principles rely on those special body features. In a second step, these pairs can be transferred to the robot to lay the foundation for embodied intelligence. According to this idea, the main characteristics of HECTOR as presented here are the muscle-like elasticity in the self-contained joint drives with integrated sensor processing capabilities, actuated 2D body segment drives, the layout and orientations of the legs and joint-axes and a lean bus system for onboard communication.