27-03-2021 | Production Process | Issue 5/2021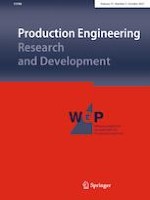 Blank shape optimization in the deep drawing process by sun method
Journal:
Authors:

Hamidreza Gharehchahi, Mohammad Javad Kazemzadeh-Parsi, Ahmad Afsari, Mehrdad Mohammadi
Important notes
Publisher's Note
Springer Nature remains neutral with regard to jurisdictional claims in published maps and institutional affiliations.
Abstract
Deep drawing is one of the most important and widely used processes in industry for the production of various parts. In this process, the optimal design of the blank has many advantages such as reducing the cost of production and waste and improving the quality of the process and thickness distribution. In this study, blank optimization involves finding an initial blank geometry in which the edge contours of the final product approach a target contour, taking the required shape after deep drawing. A new iteration based method is proposing for optimizing the shape of a blank in the deep drawing process. The behavior in such problems is severely nonlinear as a result of major plastic deformations and contact phenomena. The general solution to such problems has been to use numerical simulation iterative based methods. The present study implements a similar approach and presents a new algorithm to make geometrical corrections to the external boundaries of a blank in several iterations. A computer program was developed to automatically run these iterations to study the features of the proposed method. Next, two numerical example was solved, and the results are compared with other studies. The proposed method is robust against the initial guess as it manages to optimize the blank regardless of it.