01-08-2010 | Issue 4/2010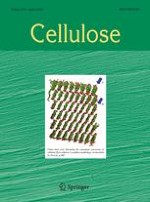 Bleaching cellulosic fibers via pre-sorption of
N

-[4-(triethylammoniomethyl)-benzoyl]-butyrolactam chloride
Journal:
Authors:

Changhai Xu, David Hinks, Renzo Shamey
Abstract
The sorption of a novel cationic bleach activator,
N
-[4-(Triethylammoniomethyl)benzoyl]-butyrolactam Chloride (TBBC), was measured on regenerated bamboo fiber. At 25 °C near neutral pH, the sorption rate of TBBC onto the fiber was initially rapid and equilibrium was reached within 20 min. Adsorption equilibria experiments followed a Freundlich isotherm. At the sorption equilibrium, bleaching was initiated by addition of sodium perborate to liberate hydrogen peroxide, which reacted with TBBC to generate a peracid that is a more kinetically active oxidant than peroxide. A sorption–activation model was developed that supports the enhanced bleaching of cellulosic fibers using cationic bleach activators under neutral to alkaline conditions.