01-01-2015 | Issue 1/2015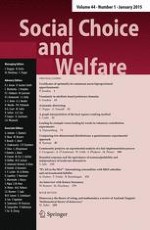 Bounded response and the equivalence of nonmanipulability and independence of irrelevant alternatives
Journal:
Author:

Shin Sato
Important notes
I am grateful to the Associate Editor, anonymous reviewers, Arunava Sen, William Thomson, and participants at GCOE International Conference on Equality and Welfare 2013 at Hitotsubashi and Mathematical Economics Seminar at Keio for helpful comments. This work is supported by JSPS KAKENHI 25780142.
Abstract
A social welfare function satisfies
Bounded Response
if the smallest change in the variable (i.e., preference profile) leads to the smallest change, if any, in the value (i.e., social preference). We show that each social welfare function on each
connected
domain satisfies
Bounded Response
and a
nonmanipulability condition
if and only if it satisfies a
monotonicity condition
and
independence of irrelevant alternatives
. Moreover, under
Bounded Response
, we show the equivalence of various notions of nonmanipulability of social welfare functions.