Published in: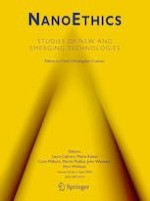 Open Access 12-05-2020 | Art-Science Interaction
BrisSynBio Art-Science Dossier
Published in: NanoEthics | Issue 1/2020
Abstract
Finding avenues for collaboration and engagement between the arts and the sciences (natural and social) was a central theme of investigation for the Responsible Research and Innovation (RRI) and Public Engagement programme at BrisSynBio, a BBSRC/EPSRC Synthetic Biology Research Centre that is now part of the Bristol BioDesign Institute at University of Bristol (UK). The reflections and experiments that appear in this dossier are a sample of these investigations and are contributed by Maria Fannin, Katy Connor and David Roden. Darian Meacham coordinated and introduces the dossier.
Publisher's Note
Springer Nature remains neutral with regard to jurisdictional claims in published maps and institutional affiliations.
Introduction (by Darian Meacham)
Finding avenues for collaboration and engagement between the arts and the sciences (natural and social) was a central theme of investigation for the Responsible Research and Innovation (RRI) and Public Engagement programme
1
at BrisSynBio, a BBSRC/EPSRC Synthetic Biology Research Centre that is now part of the Bristol BioDesign Institute at the University of Bristol (UK). The reflections and experiments that appear in this dossier are a small sample of these investigations. From the Centre's inception in 2013, the thinking was that engagement with the arts would be a stimulant for discussion and mutual learning with various publics, practitioners and researchers from various disciplines and that it would allow researchers within synthetic biology, and more specifically BrisSynBio itself, to rethink or reimagine questions and ways of asking questions about the scientific and socio-economic enterprise that they were engaged in. These included questions about how that enterprise appeared to those outside of its day-to-day activities as well as how the encounter with questions about aesthetic judgement and artistic practices could transform how the enterprise appeared to the researchers working within it; and also how this activity of reimagining through engagement with aesthetic questions might help to build understanding and communication across communities concerning some of the ethical, social, economic and political questions swirling around the Centre and synthetic biology more broadly. Modestly speaking, such engagements could be considered as an attempt at some modicum of greater inclusivity in the public sphere of the republic of science; an acknowledgement of Sheila Jasanoff's assertion that "the 20
th
century's greatest breakthroughs in the sciences have made it increasingly more acceptable for biologists to claim ownership of the meaning of life [ … ] the origins and implications of that growing primacy deserve our attention" [
1
]. The theme of art-science collaborations as the basis for "deliberative discussions on research agendas and direction" is taken up by Michael Reinsborough [
2
] in this issue. A broader analysis of the responsible innovation and public engagement programme at BrisSynBio can be found in Pansera et al. [
3
].
Attempts at mutual-learning through aesthetic engagement came quite naturally—so to speak—to the Centre. This was due to several factors. First, synthetic biology, a field born of knowledge and material co-production between biology, chemistry, engineering and computer science, has constant translation between disciplines built into it. The attempts at translation and its failure that are part and parcel of aesthetic engagement with the natural and social sciences are also integral to synthetic biology itself. Second, as Massimiliano Simons [
4
] points out, the history of engineering is replete with the self-understanding of engineers as close to the arts and enacting the character of
Metis
, goddess of magical cunning, who somehow tricks nature, hence the affinity between synthetic biology and design thinking (e.g. protein design). Third, the Centre for Public Engagement at University of Bristol was a partner in BrisSynBio. This added not only a great depth of experience in public engagement activities and methodologies to the Centre's expertise but also opened possibilities for local and international collaborations, including through European Framework Programme projects, e.g. SYNENERGENE.
2
A fourth factor is offered by the city of Bristol itself, with its vibrant arts and music scene. As expressed in its logo, designed by a local artist, BrisSynBio saw itself as embedded in the city and its artistic/design traditions (Fig.
1
).
×
Thus, the impetus for engagement with the city's artists as a form of public and deliberative engagement was understood as part of the civic mission and role of the Centre.
The three pieces that make up this dossier form a constellation around the project "Blood Culture: reimag(in)ing life at a cellular scale":
[Blood Culture: reimag(in)ing life at a cellular scale] explores how artistic research as methodology can bring new insights to the lab-based practices of cell culture and in particular to the practices of culturing red blood cells. It will bring together biochemist Ash Toye from the Bristol Synthetic Biology Research Centre (UoB, BrisSynBio) and researchers in his laboratory; artistic researcher Katy Connor, interested in exploring the boundaries between bodies and technologies; and two social scientists, Maria Fannin (UoB, Geographical Sciences) and Julie Kent (UWE, Bristol/BrisSynBio); to explore how shared interests in blood culture technologies can contribute new conceptual vocabularies and practical insights into Art-Science collaboration. It will therefore enable new perceptual encounters to occur between the four participants: asking how researchers and artists work with 'lively' materials like cultured human tissue; exploring novel ways of articulating the cultural, ethical and aesthetic practices involved in culturing blood; and inherent reflections on methodological approaches to 'making'.

3
Maria Fannin's contribution to this dossier is a reflection on the collaboration and the questions and challenges it presented as emblematic of cross-disciplinary collaboration in synthetic biology, specifically those collaborations involving social scientists, researchers from the humanities and artists. Connor's piece offers an account of and reflection on the Blood Culture Project. She "argue[s] that the consideration of human bio-matter as an art medium, opens up an intriguing cultural space to critically reflect upon relationships between biology and technology, materiality and ethics, as well as the production of new cultural meanings through metaphor". Finally, Bristol-based philosopher David Roden uses the encounter with Connor's work as a catalyst for experimental speculative reflections on synthetic biology, technology and art that sit at the edge of theory fiction.
Red Blood Cell Cultures: Reflections on Art/Social Science/Science Collaboration (by Maria Fannin)
Collaboration across disciplines is always challenging. Researchers and practitioners may have common interests but draw on entirely different epistemological positions, vocabularies and norms in their own sites of practice. Presumptions made in one discipline may be the subject of sustained and critical reflection in another. Indeed, some disciplines are themselves marked by divisions between science and social science or between science and the humanities. As a geographer whose training included deep engagement with cultural studies as well as traditional social science methods (including, like many other human geographers, digital cartography and statistical methods), these divisions are familiar. Like all demarcations of (disciplinary) territories, however, critical geographical work tells us that these boundaries and divisions are not natural or unchanging but are constructed and performed in daily practice and shaped by disciplinary norms and expectations. Enthusiasm for another's work can also go a long way to making the constructed and normative dimensions of disciplinary boundaries more visible and for helping initiate conversations that explore the fluidity and mutability of these boundaries and where collaborators might, ideally, generate a new context and horizon for working together that is more than simply the sum of all their disciplinary parts.
Multiple disciplines are now being brought together around scientific research in synthetic biology. The art/science/social science boundary is one that has gained recognition and critical reflection as artists seek to work with the materials and methods of scientific research. Likewise, scientific researchers seek new ways of imagining and posing questions, questions that may be staged inventively by artistic works and by the experimental practices of artists themselves. At the same time, social scientists involved in collaborations with artists and scientists may be burdened by expectations about their abilities to "translate" complex or abstract ideas from these experimental domains into more readily accessible forms. In the field of synthetic biology, there are strong expectations by scientific and policy-making communities and increasingly, imperatives placed on research proposals by funders, to reflect on and engage with "Responsible Research and Innovation", in order to consider the social value of scientific research, including the "engagement" of publics in the research process. These efforts are a response in part to past public controversies surrounding genetic modification and the unintended or troubling consequences of scientific innovation. The aim of these contemporary efforts to engage publics is often to involve these publics in the development of new technologies in order to explore their acceptability before they are used or brought to "market".
The focus of the work in Ash's laboratory is the development of methods for culturing or growing, and eventually manufacturing at large scale, red blood cells for transfusion. Red blood cell transfusion is an important therapeutic intervention for many conditions. Some are acute conditions, such as blood loss through surgery, accident or childbirth. Other recipients of red blood cells may need frequent transfusions over the course of their lives. Conditions such as sickle-cell and thalassemia can require many blood transfusions over time and carry the risk to the recipient of the development of side effects from the difficulty of matching donor to recipient blood type. The aim of Ash's research is to explore the methods of growing cultured red blood cells (cRBCs) for patients with complex blood types that are difficult to match, eventually producing such cells in large infection-free quantities for therapy.
Katy's artistic practice also raises questions and points to possibilities for future research that will contribute to the ongoing efforts to explore the bodily dimensions of research on blood. My aim in what follows below is to situate some of Katy's work in broader social scientific and geographical debates about bodies, materials and spatial concepts such as scale. The shifting scales of Katy's artworks generate new ways of visualising interior bodily processes and suggest new ways of making visible the micro- or cellular scale of the body. Her artistic practice opens up these new cartographies or mappings of corporeal geographies. While the visible body might seem like it is bounded by the skin and by notions of inside and outside, visualising the body's interior at the cellular level suggests other possibilities, revealing the multiple temporalities of cell growth and development within. The growth of red blood cells, their "liveliness" and development through the process of erythropoiesis and the laboratory efforts to manipulate and cultivate their development in vitro make visible the mutability of bodily processes.
Nano-ethics in Artist Research: Tiny Instances in Posthuman Conduct (by Katy Connor)
In the fields of biotechnology, synthetic biology and regenerative medicine, material laboratory-based practices frame the body as bio-matter—as material for manipulation, manufacture and fabrication. There is an instrumental technics at play; here, life itself is en-framed as something to be manipulated, often within an engineering paradigm. Might these narratives dismiss therefore the experiential, phenomenological body? This essay will discuss three works that originate in an artist residency, situated in a biomedical research laboratory, drawing attention to materials and media technologies used in both scientific and artistic practice.
The role of both linguistic and visual metaphors in the slippery spaces between culture, science and technology is of paramount importance therefore, particularly for art science collaborations. Here, metaphors operate both to concretise thinking and to open it up: to contest dominant ideologies by bringing together other approaches, stories and associations and reveal the complex issues at the heart of life manipulation.
Spending time in the laboratory studying these cells, I found myself intrigued by how it might feel to live inside these synthetic marrow structures, as micro-dwelling places. What might these spaces look and feel like? What might we learn from the cells themselves?
By 3D printing the scaffold at this scale, it enables us to imagine the genesis of red blood cells within our own bodies alongside those vessels in the lab. It gives us the ability to see out from within the micro-dimension of our bodies, to imagine an interior geography where these circulating forms of red blood cells are born, develop and grow.
My artist research explores these sensorial spaces: the thresholds between blood experienced as vital, living, bodily substance and blood as biotechnological product of scientific manufacture. When clinical trials start later this year, employing these laboratory-cultured or manufactured red blood cells—how might we start to consider these spaces within the sensorial biotechnological body? Are these cells fabricated? Engineered? How do we see and experience the body through the lens of synthetic fabrication?
Disappearance and Assembly (by David Roden)
It is easy to believe nobody built this degradable substrate with that small figurine encysted within, an unsung astronaut, that the condition did not apply or that the machine "so disconnected … never got the message".
5
The pseudo bone increments again. She ascends, follows the hooded figure with the poppy along a drive winding towards the slender palms and their ablated sky but turns aside to see where the steps lead. She sleeps through successive revolutions - a component newly introduced to this circuit (Fig.
6
).
×
So, although ample, the space is not a dwelling. Low artificial light is conducive to filtering such noise as might afflict us from within or without. In the
Salon Carré
, paintings were stacked regardless of genre. Dogs counted among the sensitive in the democracy of the Enlightenment. The floor, ceiling and walls are stark and capacious. Everything is hollowing out its place. There's a buzzing—"a dull roar like falls … in the skull".
6
Conventions are there to be disregarded, much as the inanimate props and backgrounds of the theatre. The steeds on which the Picador or Ceaser make their entrances are living; but only the speaker has a place—even if, like Hamlet or Beckett's motoric mouth, it vests a power of impersonal negation.
Not I
.
I should feel paralysis. I should not be screaming like this.
White purifies or effaces process; not simply the one who sees. The work was for itself. It lived more than the horse, more than anyone. We gathered at its edges like flies. Each look renewed us; a step taken along a path we could not know ... Another fallen key (Fig.
7
).
×
I no longer know how to do it—to look and to forget. You are not here. Will you arrive some day? I have every reason to doubt it. Later, we toast your disappearance as a sublime tactic. Let us say that I did not search. I participated, inspiraling. You think that image is fanciful? I have been here for as long as I can recall. The space murmurs, billows; collapses outward.
What, if anything, limits or bounds if frame is so animate in form?
7
I think of the curiously seductive veil worn by Cranach's
Lucretia
for her suicide.
8
We must call to order, forget and be forgotten. The entire disposition of the gallery:
Do not take photographs. Do be quiet
. Cézanne's prominent delineation expects something while it is re-used, nested. Seething exoskeletal dolling-up. Cage's
4'33"
sacrificed in echoes, coughing, silence. Beyond: Nature fibrillates like a bird in a killing jar.
Whitelaw says they removed the bulbs from the exit lights in the Royal Court, leaving the audience and a figure on an invisible platform—"sex undeterminable, enveloped from head to foot in loose black djebella, with hood".
9
The observer is finally alone. The relentless mouth agape in black yoke.
The frame gives us the knot. The inside amputates history with itself; with its impossible promise.
Greenlit afternoon. Nothing to the cultivated and protected, they were piled up; abstruse rugs, pearled with cosmetic keratosis; fragrant teratomas on their presacral areas. The sky became greasy. They lined the roads. The dogs here are terrified of their handlers. We are more malleable and less exacting than we pretend. Perhaps it is why we tamely accept her repeat, past three upstanding palms and their thin sky; through the door, behind which she waits to bleed into another (Fig.
8
).
×
Untitled Force
(2011): datasets from a nanoscale analysis of your blood assemble ridges through oceans of noise. Microscape or macroscape? The formative imagination falters with starry gulfs, violent storms or coruscating glaciers. Yet, we are reassured; imagination is victorious in defeat; its humiliation implicating, if not presenting, the supersensible, an infinite or moral "kingdom".
10
Devices like this app, this Acheulian hand axe, this atomic force microscope, typify a web of
in-order-to'
s fixed or unfixed and ultimately in our hands.
11
But the Mesh is not us. We err, ramify and cruise it. We make incompatibilities and blowbacks and portals to the future. We make it go blind.
There is no defeat or transcendence,
no here here
. Nothing springs up poetically or in shattering pain. It is the Outside frame or hand. This network cannot be reduced to its nodes. Even its appearance smiles without defeat.
At the Lab, they complained that managing data from the Atomic Force Scans of blood strained the bounds of efficient computation (short of actual intractability obviously). It was artful to juxtapose this virtual territory with Friedrich's
Das Eismeer
: white thermoplastic fracturing under the hood of an industrial 3D printer (Fig.
9
).
×
Synthetic biology instantiates and exploits functional indeterminacy locally, like any technology: introducing heterologous elements to rationalise and "refactor" genetic networks, replacing redundant DNA to make up a cleaner control surface.
Ramifying networks—organisations, cities, roads, communication grids—ceased to have any part of us. We're in the bone yard of noncompliance. Bodies become blanks, templates or platforms.
12
Their counter-finality is the faint buzzing between stars. Cellular noise pre-empts any partition into abstract possibility spaces.
13
There is no end to this and no Idea or Kingdom pays us off. History was evacuated. I have worked to bury this tight. Did you miss it? An anorganic howl bakes up the shingle (Fig.
10
).
×
Pure Flow
(2009) allegorizes the Outside where drones and biosensors survey and unpeople borders. Perhaps the hocketing noise from data passing between a GPS and its proprietary satellites traces the lapse between infrastructure and frame. This network revelling in dubious and pointless miracles: as if the Matador's bursting eye lactates between the world and a black universe.
14
What happens when the Mesh distends and flows; what does it mean to use
Flow
as a mobile app? In reaction, we dream of something we might share. And perhaps secretly hope it will be reasonable to succumb to the desert or the flood; or not objectionable. It is only death.
Perhaps I feel nostalgic for that old futurity, its innumerable repetitions and stillnessness. If it had all suffused us with impossible light one day, its prolepsis would have been infinite. They listen to Miles coil around Evans' modal voicings. Their sensations senseless in all the best ways; lost "between an already determined past and a dead-end future".
15
The network, meanwhile, is mycelial, vascularising. We fail to see where the frames and heuristics are no better than random. It recalls the incoherent multiplicity of the cephalopod as it circles in a way we cannot feel, anticipate or abandon on principled grounds.
16
My dream is to recognize the cloaked and hooded one and give her a name. Only, it is not us. I saw the first critical body between the exhibits, dripping with blood or some new transport mechanism: anterior stubs approximate a face, perhaps a stomach, boneless limbs sketched along an axis.
In your
Synthetic Dwelling
(2018), part of a polyHIPE matrix for culturing blood cells in an environment designed to "mimic bone marrow" has been 3D printed from data derived from a CT scan. It is white, 10 cm cubed, peppered with voids; passages, some thousands of times larger than the original.
That
is tiny: like a flake of aspirin with thousands of connected micropores. The sculpture beside it remains anonymous; a map of large-scale cosmological structure; one of Jack Kirby's energy pulses roiling black with negation.
Can anybody claim to know what is here; what is missing? The space you render inscribes what cannot appear and asks whether it belongs to us. Which makes me wonder:
is the Synthetic Dwelling in its place
? Perhaps this also is a machine for calcifying purpose, a construction of local activators and repressors built to archaic instructional loops. Unlike the discrete modernist cells of Warhol's
Marylyn Diptych,
or set theory, these whorls permit growth, the extension of larger tissue (or the death of affect and the libertinage of Reason). It is only notionally a "representation" or sculpture. Where have we seen that it 'is' the matrix? Not on its plinth—though you have helpfully juxtaposed it with the original. We cannot. We trust you or another to have observed the shared pocketing through a microscope.
The video animation is based on CT scan data whose time series furnished the "bone seed". It is waiting for no one. I think of the white choirs burgeoning into a Cathedral on a dead rock, out on the edge of a sterile galaxy. It would operate perfectly there. It is not for us, or for you, or for art. That is also local and temporary. This critical body was never alive. It writes though it never lived. It will survive through the centuries to come. The tools were co-opted and have nothing to do with us. Without frame and thus form. You told us what the PHP scaffold was for before it became a metaphor for something else. Do we still know what it is, outside the place where the blood cells are fashioned (Fig.
11
)?
×
We are told, to the contrary, that the aim of synthetic biology is "rational engineering": the production of biological systems that do not currently exist or the reengineering of existent systems. There are two complications: that engineered biological systems will exhibit emergent, context-sensitive properties that can only be discovered through crawling the causal meshes
17
; and that these contexts are, in any case, technological, prone to self-catalysing, exogenous noise. As if in confirmation, you tell me that you have other plans, to build a larger "exploratory play space" into which we will climb like bloodsuckers, memorializing our status as obligatory components in all this. There's a kind of pathos here, though there is nothing collective about this effort. The network ramifies and coruscates unpredictably. The black motormouth cannot see—that is for the one Beckett calls the "auditor" and there will be nothing for him, either; though it will eventually happen. The modern eliminates itself—in which case it is not—or it survives, tormented by its impossibility.
A digital sound sample can be thought of as a numerical list whose output depends on the order in which it is read. Read with a simple ramp function and pass through Digital/Analog converter; you get something like "playback". Read it with any other function and you get a distinct sound. It can be copied, reordered, stored in multiple locations; control other digital processes, modulate other sound sources. It is better thought as a pattern or event rather than a thing.
Zero Landscape
(2016) explores the implications of such patternism for our perception of real environments and bodies: contoured 3D printed nylon sculptures and 2D prints generated using geo-mapping algorithms from measurements of the Van Der Waals force between molecules of your blood.
These digital solids seem to withdraw from the viewer, as if reserving a secret that can never be made visible. As you wrote: "The image flickers between representation and digital surface; its media inseparable from its subject, rendering it hard to decipher". And the famous apophasis of desert theologians allows us to approach the empty time of the Mesh. And I suppose this withdrawal delivers us even from the myth of the hooded observers, frame and work.
Not We
. Where beauty and frame imply the possibility of cognition, your thing is unhinged. We cannot find it in the mechanisms of the gallery—the poorest, least terrifying enemy of purpose. So, if we do not know what to look for, perhaps you should come back. Please advise us.
But you are not here. Perhaps the scientists will oblige. There is no convention to determine how we must enjoy a beach, a waterfall, or a fossil. We learn such by attending to their generative mechanisms.
18
But these productions are neither natural nor conventional; nor representations of anything. Did you bleed out on the Zero Scarp? The line between North and South, the dead places where the migrations stopped. The first and final sign. And here you recall Deren, winding up by the lengthening shadows; falling, like us, into the depths of the Mesh; seeing the hooded one look back on the few occasions she looks. Zero or the Null gives it back. The Gallery falls quietly into dust or it is extending, replicating, deframing everywhere. It is why you cannot come here. Everything operates but nothing works. They fill it from without, like grafts or grifters.
Acknowledgements
Funding for Katy Connor's artist residency came from the Brigstow Institute and BrisSynBio (Bristol BioDesign Institute), University of Bristol, UK. The authors would like to thank Professor Julie Kent (UWE, Bristol emeritus) and Dr. Ash Toye (University of Bristol). Darian Meacham was partially funded by BrisSynBio.
Open Access
This article is licensed under a Creative Commons Attribution 4.0 International License, which permits use, sharing, adaptation, distribution and reproduction in any medium or format, as long as you give appropriate credit to the original author(s) and the source, provide a link to the Creative Commons licence, and indicate if changes were made. The images or other third party material in this article are included in the article's Creative Commons licence, unless indicated otherwise in a credit line to the material. If material is not included in the article's Creative Commons licence and your intended use is not permitted by statutory regulation or exceeds the permitted use, you will need to obtain permission directly from the copyright holder. To view a copy of this licence, visit
http://​creativecommons.​org/​licenses/​by/​4.​0/​
.
Publisher's Note
Springer Nature remains neutral with regard to jurisdictional claims in published maps and institutional affiliations.