2019 | OriginalPaper | Chapter
Building a Shared Present and Future: Learnings from Henry Ford and Albert Kahn's Co-Wuity Collaborative Innovation Network on the Moving Assembly Line and Mass Production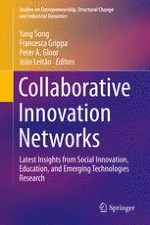 Authors: Ken Riopelle, Xin Wang
Publisher: Springer International Publishing
Abstract
The purpose of this paper is to demonstrate how to build a shared future through Collaborative Innovation Networks (COINs) using a historical case study of the timely and unique Co-Wuity partnership between Henry Ford, the automotive industrialist, and Albert Kahn, the Detroit architect who designed and built over 1000 buildings for Ford over 34 years from 1908 to 1942.
Wuity is a higher cognition with the flexible and imaginative ability to gain intuitive understanding of underlying phenomena and connect deliberative thinking for insightful problem-solving through a process of mindful observation and visual analogy.
Ford was building an automotive manufacturing company, which was designing and manufacturing a vehicle in standardized high volumes and that needed a new building to meet that growing demand. Kahn was building an architectural firm, which was designing custom building plans on a project-by-project basis to meet the needs of his clients, also on a high-volume scale.
Both developed Wuity behaviors of mindful observation and visual thinking to gain insights for innovations, experimentation, and implementation to see and understand what worked in their respective ventures, influencing each other's businesses in the process.
The focus of the case is on the emerging and future technologies at that time, on how COINs strengthened adaptability and transformability to leverage novel ideas as a competitive advantage using the two early nineteenth-century start-ups: the Ford Motor Company and Albert Kahn Architects and Engineers as our historical case study.
Our goal is to inspire today's leaders by demonstrating the lessons these past leaders taught us about how to build a shared future through a Collaborative Innovation Network. In addition, this case extends the analysis of Wuity to a Co-Wuity Collaborative Innovation Network.