11-04-2021 | Featured article and Forum | Issue 1/2021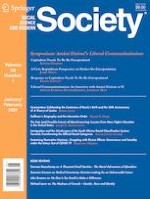 Can We Still Re-encapsulate Capitalism?
Journal:
Author:

Gerald F. Davis
Important notes
Publisher's Note
Springer Nature remains neutral with regard to jurisdictional claims in published maps and institutional affiliations.
Abstract
American capitalism is undergoing another of its periodic crises in which under-regulated businesses engage in widespread wrongdoing and delegitimate the broader system, according to Amitai Etzioni. This response seeks to uncover some of the roots of the current corporate crime wave in the distinctive terroir of American shareholder capitalism. It suggests that new information technologies require rethinking the most efficacious way to rein in corporate misbehavior. This will turn out to be rather different from 20th century regulation.