2013 | OriginalPaper | Chapter
Can We Trust Software Repositories?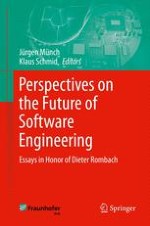 Read first chapter
Author: Andreas Zeller
Publisher: Springer Berlin Heidelberg
Abstract
To acquire data for empirical studies, software engineering researchers frequently leverage
software repositories
as data sources. Indeed, version and bug databases contain a wealth of data on how a product came to be. To turn this data into knowledge, though, requires deep insights into the specific process and product; and it requires careful scrutiny of the techniques used to obtain the data. The central challenge of the future will thus be to combine both automatic and manual empirical analysis.