01-08-2011 | Issue 4/2011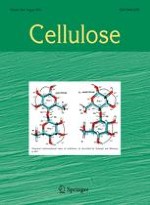 Cellulose fibers modified with silver nanoparticles
Journal:
Authors:

E. Smiechowicz, P. Kulpinski, B. Niekraszewicz, A. Bacciarelli
Abstract
Cellulose fibers modified with silver nanoparticles were prepared using
N
-methylmorpholine-
N
-oxide as a direct solvent and analyzed in this study. Silver nanoparticles were generated as a product of AgNO
3
reduction by means of three methods under varying light conditions (daylight and darkroom). Influence of generating conditions on the size, the type and the number weighting of created nanoparticles was examined. Dynamic Light Scattering technique (DLS) was used for determination of those parameters. DLS analysis showed that the best method, i.e. the one that allowed the generation of the greatest number of silver nanoparticles with the smallest diameter and the smallest agglomerates, was incubation of cellulose pulp with AgNO
3
in a darkroom for 24 h. Mechanical and hydrophilic properties of all obtained fibers were also determined. Results showed that the method of silver nanoparticles generation did not influence significantly mechanical and hydrophilic properties of the modified fibers, because in all cases only small decreases of the studied parameters were observed.