06-07-2020 | Original Research | Issue 13/2020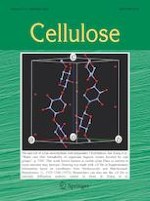 Cellulose hydrogel functionalized titanate microspheres with self-cleaning for efficient purification of heavy metals in oily wastewater
Journal:
Authors:

Ye Xiong, Lulu Xu, Chunde Jin, Qingfeng Sun
Important notes
Electronic supplementary material
Publisher's Note
Springer Nature remains neutral with regard to jurisdictional claims in published maps and institutional affiliations.
Abstract
Heavy metal pollution containing large amounts of oil pollutants is becoming one of the major water pollution categories. The presence of oil can seriously hinder the performance of existing heavy metal ion scavengers. In order to change this embarrassment, a self-cleaning titanate hydrogel microsphere is developed and applied to the treatment of oily heavy metal wastewater. Gel functionalized titanate microspheres are prepared by a simple sol–gel process through ionic liquid dissolved cellulose solution as raw materials. As a result, the hybrid hydrogel microspheres inherit and integrate the intrinsic properties of both titanate and cellulose hydrogels, and exhibit an excellent ability to handle this oily wastewater. In detail, the oil contact angle underwater for the THMS is greater than ~ 153°, and its adsorption capacity of Cu(II) ions is up to 176.4 mg/g. Furthermore, it shows a significant improvement in adsorption efficiency, application range, and recycling behavior. More importantly, this easy-to-use self-cleaning method can be extended to a variety of other adsorbents to efficiently treat oily wastewater. In summary, this work may provide a viable and easy way for oily wastewater treatment from multiple sources.