01-08-2011 | Issue 4/2011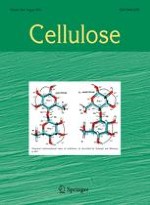 Cellulose wet wiper sheets prepared with cationic polymer and carboxymethyl cellulose using a papermaking technique
Journal:
Authors:

Takehiko Uematsu, Yoshiaki Matsui, Shusuke Kakiuchi, Akira Isogai
Important notes
Electronic supplementary material
The online version of this article (doi:
10.​1007/​s10570-011-9536-9
) contains supplementary material, which is available to authorized users.
T. Uematsu of Kao Corporation is now a visiting graduate student of The University of Tokyo.
Abstract
Carboxymethyl cellulose (CMC)-rich cellulose sheets were prepared with a cationic retention aid, poly[
N
,
N
,
N
-trimethyl-
N
-(2-methacryloxyethyl)ammonium chloride] (PTMMAC), using a papermaking technique. When 5% PTMMAC and 5% CMC were added to cellulose slurries, approximately 94% of the polymers were retained in the sheets by formation of polyion complexes between the two polymers. When the PTMMAC/CMC/cellulose sheets were soaked in solutions consisting of ethanol, water and calcium chloride (EtOH/H
2
O/CaCl
2
) with a weight ratio of 75:24:1, almost all PTMMAC and CMC molecules remained in the sheets, forming the structures of PTMMAC-N
+
Cl
−
and CMC-COO
−
Ca
2+
Cl
−
without dissolution of these molecules in the soaking solution. Thus, PTMMAC, CMC and calcium contents in the sheets were able to be determined on the basis of these PTMMAC and CMC structures from analytical data such as nitrogen, calcium and chlorine contents. The trade-off properties between sufficient wet strength in use and water-disintegrability after use can be added to the PTMMAC/CMC/cellulose sheets by selecting weight ratios of the EtOH/H
2
O/CaCl
2
solution used as the impregnation liquid.