Published in: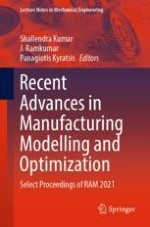 2022 | OriginalPaper | Chapter
CFD Analysis and 3D Printing of Venturi for Vacuum-Assisted LDPE Grain Flow System
Abstract
Product designing procedures are enhancing in this modern era. Rapid prototyping has become an inseparable element of this design procedure. This rapid prototyping is emerging as a rapid manufacturing process. 3D printing is the most widely used method of rapid prototyping. In this paper, the research is carried on the venturi through Computational Fluid Dynamics. This venturi model was 3D printed using a custom build 3D printer having a print volume of 100 mm × 100 mm × 150 mm and 0.4 mm of nozzle diameter. This 3D printed venturi was integrated with vacuum-assisted grain flow system used for transferring (
loading
) LDPE grains in a small-scale Roto-Moulding Unit. The venturi creates the vacuum which draws the grains and causes the grains to flow along the air stream. This system resulted in the discharge of 2 kg/min of LDPE grains. 3D printed venturi completely served the purpose in vacuum-assisted grain flow system proving 3D printed parts are reliable.