01-12-2013 | Original Article | Issue 4/2013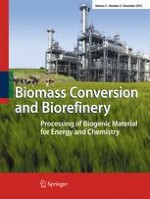 Characterization of trace contaminants in syngas from the thermochemical conversion of biomass
Journal:
Authors:

S. Kent Hoekman, Curtis Robbins, Xiaoliang Wang, Barbara Zielinska, Dennis Schuetzle, Robert Schuetzle
Important notes
Electronic supplementary material
The online version of this article (doi:
10.​1007/​s13399-013-0081-7
) contains supplementary material, which is available to authorized users.
Abstract
Sampling and analysis procedures are described that have been developed and validated for the detailed characterization of trace organic and inorganic contaminants in purified syngas generated from an integrated biorefinery (IBR). A dynamic dilution sampling system was employed to minimize the potential loss of polar organic and particulate species during the sampling of the syngas. Sample collection media included a combination of filters, adsorbent cartridges, and evacuated canisters. Results were generated for up to 165 syngas contaminants generated from the conversion of rice hull and wood chip feedstocks over a 3-day test period from a pilot IBR having a biomass conversion capability of 10 to15 dry tons per day. Special emphasis was placed on the characterization of trace sulfur species (H2S, SO2, and inorganic sulfates), nitrogen species (NH3, HNO3, NO2, and inorganic nitrates), chlorine species (HCl and inorganic chlorides), tars (organic particulates), and inorganic particulate matter (elemental species) since these materials are known contaminants that can adversely affect catalysts used in subsequent conversion of syngas to fuels. The dynamic dilution sampling system was shown to reliably collect trace contaminants in the syngas, collected both before and after the IBR syngas purification system. The detection limits for most chemical species were found to be in the low ppb range. The total average concentrations of all particulate contaminants using filter sampling media were in good agreement with PM2.5 measurements using a real-time particulate monitoring instrument. It was found that the purified syngas contained very low levels of contaminants, and that the syngas from this biorefinery would be suitable for subsequent catalytic conversion to liquid fuels over extended periods of biorefinery operation.