01-12-2021 | Research | Issue 1/2021 Open Access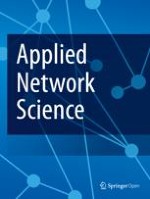 Characterizing network dynamics of online hate communities around the COVID-19 pandemic
Journal:
Authors:

Joshua Uyheng, Kathleen M. Carley
Important notes
Publisher's Note
Springer Nature remains neutral with regard to jurisdictional claims in published maps and institutional affiliations.
Abbreviations
API
Application programming interface
JSON
JavaScript object notation
IDEA
Incidence Decay and Exponential Adjustment
ORA
Organization Risk Analyzer
INLA
Integrated Nested Laplace Approximation
AR1
Autoregressive Model with Lag 1
Introduction
To orient the reader, the succeeding sections of this paper engage prior related work as follows. First, we offer a brief overview of the problem of hate speech as both a computational and social issue, reviewing some general approaches for understanding and detecting hate speech on digital platforms. Second, we look at issues of 'infodemics' during the COVID-19 pandemic. Noting the complexity of issues surrounding information flow and social relations during the pandemic, we highlight the need for integrative views of online conflicts during crisis. Finally, drawing on constructural theory, we consider ways of addressing extant conceptual and methodological gaps. Building on these foundations, we therefore ask: How does hate speech evolve within online communities in the context of the COVID-19 pandemic?
Related work
The problem of online hate speech
Understanding online hate speech represents a crucial, multidisciplinary challenge (Pohjonen and Udupa
2017
; Warner and Hirschberg
2012
). Seminal work distinguishes hate speech from regular speech on social media based on its targeted attack of specific identities; from this perspective, it is also different from offensive speech which merely uses uncouth or inappropriate language (Davidson et al.
2017
). Social scientific research empirically highlights the negative effects of online hate speech on individual psychological well-being and wider intergroup relations. Exposure to exclusionary hate speech bears negative emotional consequences for marginalized identities (Leader et al.
2009
; Saha et al.
2019
). As populations consume online content with increased levels of toxicity, higher levels of prejudice may be observed in line with growing experiences of desensitization (Soral et al.
2018
). In the long term, widespread hate speech likewise contributes to greater likelihood of radicalization against vulnerable, targeted groups (Bilewicz and Soral
2020
).
From a computational perspective, identifying online hate speech in large-scale conversations with scalable tools thus comprises an important task. Recent advances in machine learning and natural language processing have resulted in important progress with respect to automated hate speech detection. Cutting-edge techniques for identifying hate speech have successfully deployed deep-learning methods to account for the complex linguistic features which characterize toxic utterances online (Badjatiya et al.
2017
; Fortuna and Nunes
2018
). More theoretically motivated work has similarly developed lexicon-based or embedding-based approaches, with unique applications to examine the targets of hate speech (Alorainy et al.
2019
; ElSherief et al.
2018a
,
b
), or to probe the unique ways online populations have countered hate speech (Chung et al.
2019
; Mathew et al.
2019
).
Viewing hate speech from the lens of both the computational and social sciences bears important implications for addressing its spread in both online and offline contexts (Carley et al.
2018a
). Whereas algorithmic tools may help flag particular instances of hate speech (Burnap and Williams
2015
), policy responses require an understanding of the contextual conditions which facilitate its spread. These broadly include the sources and targets of hate speech, the idiosyncrasies of particular social media platforms, and wider aspects of society at large (Jardine
2019
; Pater et al.
2016
; Starbird et al.
2019
).
Hate speech as infodemic: from texts to communities
Many of these issues have been brought to sharp relief in the context of the ongoing COVID-19 pandemic. The present global climate of uncertainty and fear has fomented intense public need for information and deepened societal fissures (Chiriboga et al.
2020
; Martinez-Juarez et al.
2020
). Running parallel to the networked epidemics of COVID-19 itself (Hâncean et al.
2020
), these conditions have contributed to a so-called 'infodemic' on cyberspace—an overabundance of information of extremely variable quality, communicated at unprecedented rates, with numerous potentially adverse consequences (Cinelli et al.
2020
; Zarocostas
2020
).
Online hate speech features as one major aspect of this infodemic. Research finds that racism against Asian populations has notably spiked due to associations made between the virus and its originating infections in China (Stechemesser et al.
2020
; Ziems et al.
2020
). Some scholars point to the role of political leaders in promoting inclusive social order or exclusionary social disorder when communicating with their followers (Cohen
2020
; Reicher and Stott
2020
). Others also point to how the inherent features of cyberspace may contribute to the formation of hate speech communities and the viral spread of toxic content related to COVID-19 (Johnson et al.
2019
; Kim
2020
).
Both enduring and burgeoning concerns around the pandemic thus point to the need for understanding online hate speech beyond a purely linguistic perspective. As an infodemic co-occurring with the COVID-19 pandemic, hate speech must also be considered in terms of its social spreading dynamics. However, prevailing computational scholarship concentrates on the classification of hate speech as a static, textual phenomenon, without explicit consideration for the communicative contexts in which it proliferates.
Hence, beyond the prevalence of hate speech, we suggest that it is important to focus on hate communities. This bears several implications for our proposed approach. First, existing studies tend to operate on a single functional view of (racist) hate during the pandemic. However, not all communities engage in the same form of hate (Crenshaw
1990
; Priante et al.
2016
). Furthermore, we consider the structural features of hate communities. Past attention to the communicative conditions which characterize the spread of online toxicity largely remains limited (Kim
2020
). Finally, we note that the primary focus in scholarly work has largely been on hate speech in Western or English-speaking contexts against Asian populations (Henrich et al.
2010
). While valuable, these studies do not address the global scale of both the pandemic and its universal strain on unequal societies worldwide (Gosling et al.
2010
; Uyheng and Carley
2019
).
A constructural view of dynamic hate networks
To address these conceptual and methodological gaps, we draw insights from the social scientific theory of constructuralism. Constructural theory understands evolving social phenomena through the dynamic interplay of cognitive, interactional, and technological factors (Carley
1989
,
1991
,
1995
). Under this framework, individuals possess a particular set of beliefs. The informational properties of individuals shape preferences for interactions with other individuals. As social interactions progress, individuals update their beliefs, which in turn reshape interaction preferences. Taken together, these factors collectively contribute to the structural properties of large-scale social networks. Social networks, moreover, are seen to co-evolve with knowledge structures or cultural norms (Joseph et al.
2014
,
2016
). In other words, as patterns of interconnection between agents shift, so do the relationships between the ideas they exchange.
Viewed from this perspective, online hate speech around the pandemic may be seen as a dynamic, community-based phenomenon, with unique properties in distinct political and cultural settings. In terms of the content of hate speech, we posit that patterns of toxicity and aggression depend on how particular identities are targeted. Hence, for instance, hate toward certain identities may take on different forms of abuse over time, or combine with hate toward other identities. We also hypothesize that the structural features of social networks, which are linked to possibilities and constraints for information flow, are predictive of hate speech prevalence. From a network perspective, we surmise that hate may spread more successfully in communities that are more isolated from the broader conversation. Communities with more hateful opinion leaders might also feature higher levels of overall hate speech.
Contexts of study
To investigate these propositions in this work, we consider comparative analysis of the contexts of the United States and the Philippines. A comparative approach enables us to determine shared, as well as contextually unique, dynamics of hate speech across distinct geopolitical settings (Miller and Vaccari
2020
).
Both the US and the Philippines have faced particular challenges in curbing COVID-19 outbreaks, with the US confronting the largest cumulative number of confirmed cases in the world, and the Philippines the largest for Southeast Asia. Additionally, both the US (Rutledge
2020
) and the Philippines (Uyheng and Montiel
2020b
) have been noted for their contexts of political polarization under populist leadership. These factors contribute to additional difficulties in pandemic management, but also potentially constitute conditions for exacerbated social conflicts (Reicher and Stott
2020
).
But while these two countries share common political features, they are also unique contexts for the spread of hate speech. For instance, we note that US-specific concerns with racism have vastly outlived the COVID-19 pandemic (Abramowitz and McCoy
2019
; Crenshaw
1990
). Hate speech in the US may thus hinge on historical racial divisions on top of more recent spikes in international tensions with China (Beskow and Carley
2020
; Ziems et al.
2020
). On the other hand, the Philippines' geographic proximity to China, and its recent history of territorial disputes with the Asian superpower, may also push particular forms of sinophobic discourse on digital platforms (Montiel et al.
2019
; Ong et al.
2019
).
We note that while these past studies do not strictly suggest predictive hypotheses for the dynamics of hate speech examined here, they contextualize potential reasons for the emergence of online hate speech during the COVID-19 pandemic, especially with respect to racial groups or political figures. Other countries may feature distinct dynamics throughout the course of the pandemic as shaped by their own local societal conflicts.
Contributions of this work
In adopting a constructural view, we introduce an integrative computational framework for understanding online hate communities during the pandemic. Going beyond a purely textual analysis, we compare the network dynamics of hate speech across distinct geopolitical settings. More specifically, this paper therefore stakes the following contributions to the literature:
1
we associate the spread of online hate speech with structural features of hate communities;
2
we explicitly examine diverse forms and targets of online hate speech; and
3
we perform comparative analysis across two unique political and cultural contexts hit hard by the COVID-19 pandemic.
Data and methods
Results
Our analysis reveals idiosyncratic network dynamics associated with the spread and organization of hate speech surrounding the COVID-19 pandemic. In the succeeding sections, we first trace temporal trends in community-level hate speech for both the US and the Philippines. We also consider the associated infodemiological characteristics of hate speech spread and compare it to known social media infodemics around COVID-19. We then examine patterns in the identity-based targets of hate communities. Finally, we present our integrated analysis of how structural and functional features of dynamic network clusters relate to community hate.
Discussion
Competing interests
The authors declare that they have no competing interests.
Open Access
This article is licensed under a Creative Commons Attribution 4.0 International License, which permits use, sharing, adaptation, distribution and reproduction in any medium or format, as long as you give appropriate credit to the original author(s) and the source, provide a link to the Creative Commons licence, and indicate if changes were made. The images or other third party material in this article are included in the article's Creative Commons licence, unless indicated otherwise in a credit line to the material. If material is not included in the article's Creative Commons licence and your intended use is not permitted by statutory regulation or exceeds the permitted use, you will need to obtain permission directly from the copyright holder. To view a copy of this licence, visit
http://​creativecommons.​org/​licenses/​by/​4.​0/​
.
Publisher's Note
Springer Nature remains neutral with regard to jurisdictional claims in published maps and institutional affiliations.