Published in: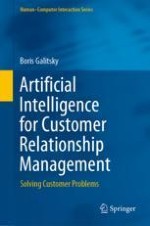 2021 | OriginalPaper | Chapter
1. Chatbots for CRM and Dialogue Management
Abstract
In this chapter, we learn how to manage a dialogue relying on the discourse of its utterances. We show how a dialogue structure can be built from an initial utterance. After that, we introduce an imaginary discourse tree to address the problem of involving background knowledge on demand, answering questions. An approach to dialogue management based on a lattice walk is described. We also propose
Doc2Dialogue
algorithm of converting a paragraph of text into a hypothetical dialogue based on an analysis of a discourse tree for this paragraph. This technique allows for a substantial extension of chatbot training datasets in an arbitrary domain. We evaluate constructed dialogues and conclude that deploying the proposed algorithm is a key in successful chatbot development in a broad range of domains where manual coding for dialogue management and providing relevant content is not practical.