Published in: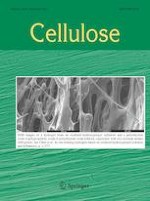 21-10-2021 | Original Research
Chitosan derivative-based mussel-inspired hydrogels as the dressings and drug delivery systems in wound healing
Published in: Cellulose | Issue 18/2021
Login to get access
Abstract
The hydrogel wound dressings are mostly sheet-like and do not possess adhesive properties, so it is often difficult for them to adhere well to the skin tissues and fit completely with the irregularly shaped wounds or deep wounds, thereby affecting their therapeutic effects. Herein, the chitosan derivative-based mussel-inspired hydrogels have been developed to overcome these obstacles. Specifically, the principle of adhesion of marine mussel was imitated to synthesize catechol-modified chitosan (CMC), which was potentially used as the raw material to prepare the mussel-inspired hydrogels, that can contribute to the excellent adhesive property and make the hydrogels adhere well to the wound sites. The o-diphenyl groups in CMC could be easily oxidized to form o-diquinone to further form a covalent binding with amino groups (–NH2), or can directly form coordination binding with Fe
3+
.This strong covalent and coordination binding causes the hydrogels to possess a complex spatial structure, which facilitates the hydrogels to display good swelling properties, drug loading and release properties. Furthermore, the total saponins of
Panax notoginseng
were loaded in the hydrogels and the therapeutic effects of drug-loaded hydrogel were investigated in the model of full-thickness skin injury in mice. The wound healing rate was observed to be as high as 92.5% without exhibiting any scarring. Overall, our findings provided a novel strategy for the preparation of hydrogels for therapeutic applications.