01-06-2015 | GENERAL PROBLEMS OF METROLOGY AND MEASUREMENT TECHNIQUE | Issue 3/2015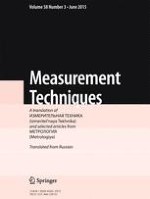 Choice of Measurement Scale for Evaluating Compliance of the Vertical Landing Velocity of Aircraft with Established Specifications
Journal:
Authors:

L. N. Aleksandrovskaya, A. V. Kirillin, O. M. Rozental, P. A. Iosifov
Important notes
Translated from Izmeritel'naya Tekhnika, No. 3, pp. 6–11, March, 2015.
A scheme is proposed for correct analysis of the results of measurements in the concept of acceptable risk. The three basic methods for estimating the probability of finding a measured characteristic (nonparametric and parametric tolerance intervals and separate confirmation of specifications for the mathematical expectation and dispersion) within tolerance for different scales are compared for the example of measuring the accuracy characteristics of automatic aircraft landing systems. Recommendations are given for the use of the proposed methods and for the required number of measurements.