06-03-2020 | Methodologies and Application | Issue 19/2020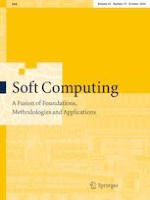 Choquet integration by Simpson's rule with application in Hellinger distance
Journal:
Authors:

Hamzeh Agahi, Mahmoud Behroozifar
Important notes
Publisher's Note
Springer Nature remains neutral with regard to jurisdictional claims in published maps and institutional affiliations.
Abstract
In non-additive measure theory, there are a few studies on the numerical Choquet integral in continuous case on real line. Recently, based on the statistics software R, Torra and Narukawa (Inf Fusion 31:137–145, 2016) considered the problem of computing a numerical Choquet integral and some algorithms for Hellinger distance between two monotone measures. In this paper, the composite Simpson rule for numerical Choquet integration is proposed. Then some algorithms in
Mathematica
software are given. As well as, CPU time of the Examples in terms of seconds is reported which shows, in computational view, the presented method has a high speed.