Published in: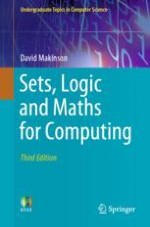 2020 | OriginalPaper | Chapter
1. Collecting Things Together: Sets
Abstract
In this chapter we introduce the student to the world of sets. Actually, only a little bit of it, enough to get going. After giving a rough intuitive idea of what sets are, we present the basic relations between them:
inclusion
,
identity
,
proper
inclusion
, and
exclusion
. We describe two common ways of identifying sets, and look closely at the
empty set
, basic Boolean operations, generalized meet and union, and powersets.