2015 | OriginalPaper | Chapter
Columbus ECLSS and TCS Safety and Reliability Considerations for ISS Life Time Extension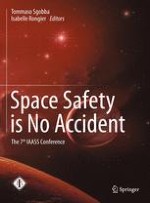 Read first chapter
Authors: Alessandro Nocera, Laura Garbellini, Alexander Getimis, Piera Mannini
Publisher: Springer International Publishing
Abstract
Traditional non-maintainable life supporting systems of manned spacecraft limit the utilization time to a minimum. Conversely, the International Space Station (ISS) represents an adequate environment for the maintainable life supporting systems.
The hardware of the orbital Columbus laboratory consist of on-orbit maintainable equipment with a design life of 10 years and non-maintainable items designed to allow utilization time of 15 years before reaching the end of life.
The life extension is one further step within the continuous evolution of the life support systems also of regenerable nature, mandatory for long duration missions, without relying on spare supplies from earth.
The paper reflects the safety considerations that were made for the Columbus module, focusing on TCS and ECLSS subsystems, and describes the process through which the lifetime extension of Columbus was achieved.