2020 | OriginalPaper | Chapter
Combination of OFDM and CDMA Techniques for a High Bandwidth Optimization and a Great Improvement of Signal Quality in OFDM Systems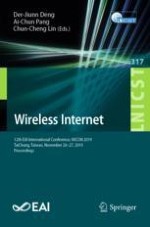 Read first chapter
Authors: Agnès Ngom, Ahmed Dooguy Kora
Publisher: Springer International Publishing
Abstract
The use of OFDM modulation has become a priority in recent years as it is an ideal platform for wireless data transmissions. Its implementation can be seen in most of the newer broadband and high bit rate wireless systems, including Wi-Fi, cellular telecommunications and more. This is due to the many benefits this technology provides. These include immunity to selective fading, intersymbol interference resistance, intercarrier interference resistance, more efficient spectrum utilization and simpler channel equalization.
But with the increasing demand from users, the scarcity of the radio spectrum and the use of OFDM for a large number of recent wireless applications, the optimization of bandwidth and signal quality must be a major concern.
Thus, in this paper, we propose in a multipath Additive White Gaussian Noise environment, a more efficient wireless transmission system that combines OFDM and CDMA techniques. It is a 4-QAM OFDM-CDMA synchronous multiuser system that uses OVSF codes to differentiate users. It can be applied on the downlink of a wireless cellular system based on a simple OFDM access and even be a system for 5th generation mobiles where OFDM is considered in combination with a multiple access technique.
It turns out that, compared to a 4-QAM OFDM single-user system, a 4-QAM OFDM-CDMA synchronous multi-user system offers better performances that increase with SF the length of the OVSF codes used to differenciate users.
Thus with SF = 32 and in the case of a six paths Additive White Gaussian Noise channel, a user of a 4-QAM OFDM-CDMA system can share the same OFDM subcarriers with twenty (20) other users of the same system and have a lower BER than a user of a 4-QAM OFDM single-user system having the same power profiles.
It is therefore possible with values of SF greater than or equal to 32, to optimize bandwidth and signal quality in systems based on an OFDM access.