09-07-2020 | Original Research | Issue 13/2020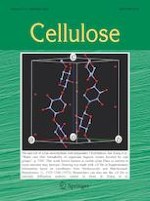 Combined mechanical grinding and enzyme post-treatment leading to increased yield and size uniformity of cellulose nanofibrils
Journal:
Authors:

Caihong Zhang, Min Wu, Shuang Yang, Xueping Song, Ying Xu
Important notes
Publisher's Note
Springer Nature remains neutral with regard to jurisdictional claims in published maps and institutional affiliations.
Abstract
The low yield and size nonuniformity of cellulose nanofibrils (CNFs) prepared by mechanical grinding restrict their extensive application in many fields. In this study, microfibrillated cellulose (MFC) with varying grinding time (0–2.5 h) was post-treated with endoglucanase (EG) to improve the yield and size uniformity of the CNFs. With the same grinding time, the yield of the CNFs post-treated with EG increased approximately one-fold, and the diameter of the microfibrils decreased according to the SEM and TEM images. The yield of the CNFs ground for 0.5 h and post-treated by EG was similar to that of the sample ground for 2.5 h, and approximately 26.1 kWh/kg mechanical grinding energy were saved by the EG post-treatment while obtaining the same CNF yield. There was an abundance of micropores that affected the specific surface area of samples, and the width of the micropores was centered between 1.3 and 2.0 nm. The crystallinity index (CrI) of the MFC decreased gradually from 74.90 to 69.30% with prolonged grinding time, whereas the CrI of the samples post-treated by EG slightly increased between 1.7 and 3.0%. The tensile strength and elongation at break of the films prepared by the EG post-treated samples slightly decreased, while the Young's modulus and transmittance increased. This study provides a valid and an eco-friendly biological method to improve the yield and size uniformity of CNFs and reduce energy consumption.
Graphic abstract
×