27-02-2019 | Issue 5/2019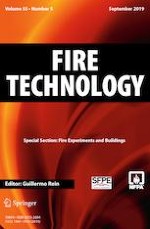 Combustion Characteristic of Commercial Flame-Retardant Natural Rubber Under Low Oxygen Atmosphere
Journal:
Authors:

Xuelin Zhang, Teng Zhang, Tingting Qiu, Zhiwei Ding, Changhai Li, Shouxiang Lu
Important notes
Publisher's Note
Springer Nature remains neutral with regard to jurisdictional claims in published maps and institutional affiliations.
Abstract
Besides combustion behavior under normal atmosphere, combustion behavior under special environment is also an important aspect for safety operation of China high-speed train. The commercial flame-retardant natural rubber employed in China high-speed train as the main floor cloth material was investigated in this study at low oxygen atmosphere with 18 kW m−2 to 60 kW m−2 external heat fluxes by means of ASTM E2058 fire propagation apparatus to deepen the knowledge of combustion behavior. The ignition time of sample mainly depended on external heat flux not the oxygen concentration (only low and normal oxygen concentration) except 40 kW m−2. During the whole combustion process two main stages appeared, one was thermal decomposition of sample, and the other stage was the forming charry layer combustion. The CO and CO2 yields decreased with external heat flux increasing and the ratio of yCO/yCO2 firstly increased and then decreased. The experimental data in this study can provide guidance for fire safety design and assessment of China high-speed train.