13-09-2019 | Original Empirical Research | Issue 4/2020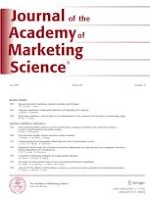 Communicating brand biographies effectively: the role of communication source
Authors:

Ali Tezer, H. Onur Bodur, Bianca Grohmann
Important notes
Dipayan Biswas served as Area Editor for this article.
Publisher's note
Springer Nature remains neutral with regard to jurisdictional claims in published maps and institutional affiliations.
Abstract
Although brands increasingly disseminate their brand biographies through brand sources, this research shows that this practice can decrease brand attitudes and consumer preferences. A brand source activates consumers' persuasion knowledge, increasing negative thoughts and impeding narrative transportation into the brand biography. This research furthermore demonstrates that the negative impact of a brand source in the dissemination of brand biographies depends on self-congruence, such that a detrimental effect on consumer attitudes and preferences occurs when the brand biography is incongruent with consumer's self-concept, but is mitigated when the brand biography is self-congruent. These findings suggest that the dissemination of brand biographies by brand sources requires consideration of source and congruence effects.