01-05-2015 | Foundations | Issue 5/2015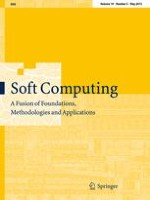 Commutative basic algebras and coupled near semirings
Journal:
Authors:

Ivan Chajda, Helmut Länger
Important notes
Communicated by L. Spada.
Support of the research of both authors by ÖAD, Cooperation between Austria and Czech Republic in Science and Technology, Grant No. CZ 03/2013, is gratefully acknowledged.
Abstract
The relationship between MV-algebras and semirings was described by Di Nola and Gerla (Contemp Math 377:131–144,
2005
). Since commutative basic algebras are similar to MV-algebras up to associativity of the binary operation we try to get a similar relationship between commutative basic algebras and so-called near semirings and we show that this is possible. This means that associativity does not play an important role in establishing a connection between an algebra of many-valued logic and a structure similar to a semiring.