2021 | OriginalPaper | Chapter
Comparative Analysis of the Bearing Capacity of Strip Footing with Varying Depth of Soil Reinforcement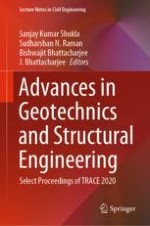 Read first chapter
Authors: Gurjas Singh Pahuja, Prakhar Duggal, Lavish Siddiqui, Ujjwal Bhardwaj, Milan Thakur, Hammad Ahmad
Publisher: Springer Singapore
Abstract
This paper presents a "Comparative Analysis of The Bearing Capacity of Strip Footing with Varying Depth of Soil Reinforcement". The analysis has been conducted by using a software Optum G2 in only single layer of soil reinforcement (i.e. geo-grid) has been placed under the strip footing with the variation of depth. There is some assumption that have been made before using the soil reinforcement. (i) it is assumed that soil reinforcement is adequate strong to resist the axial tension failure (ii) the soil reinforcement does not play any role in resistance to bending (iii) shear failure can occur in between the reinforcement and soil. The method has been adopted which has been would help us to find efficiency factor
h
c
and
h
γ

.
This efficiency factor has to be multiplied with normal
N
c
and
N
γ
of the unreinforced soil to get the bearing capacity of soil the presence of soil reinforcement. The result that have been presented in such a way that it can be used as standard for soil having internal angle friction (
ϕ
) varying from 20 to 45°. The optimum depth which is also known as critical depth have also been found long it. The result compares reasonably well with available theoretical and experimental data from literature.