Published in: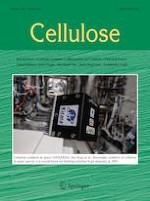 29-06-2021 | Original Research
Comparative characterization of phosphorylated wood holocelluloses and celluloses for nanocellulose production
Published in: Cellulose | Issue 5/2022
Login to get access
Abstract
Raw material selection for cellulose nanofiber (CNF) production is a crucial step for tailoring CNF properties for its intended applications. Thus, understanding the dependency of the raw material on the resulting CNF properties is imperative. However, this understanding is lacking for newly emerging phosphorylated CNFs. Herein, four types of wood cellulosic materials, namely softwood- and hardwood-derived holocelluloses and purified celluloses, were subjected to phosphorylation. The holocelluloses possessed greater amounts of phosphate groups (up to 2.8 mmol/g) than celluloses (2.2–2.4 mmol/g). Significant amounts of hemicelluloses were retained after phosphorylation in both holocelluloses. The amounts of hemicellulose-derived residual neutral sugars significantly differed depending on the wood species. The disintegration into CNFs was governed not only by the amount and structure of the phosphate groups, but also by the fiber morphology and hemicellulose content of the raw material. Polyphosphate groups, cross-linking via phosphates, and carbamates, which were formed by side reactions, were also quantified.