2020 | OriginalPaper | Chapter
Comparative Law and Multicultural Legal Classes: Challenge or Opportunity?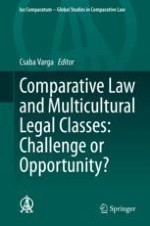 Author: Csaba Varga
Publisher: Springer International Publishing
Abstract
Our thoughts are products of our own culture, tradition, and ideal of order, so their understanding and development can only be based upon them. However, cultures, traditions and ideals vary from time to time and from people to people, as each of them has been created and developed to respond to challenges under their own conditions given. Consequently, they are both independent of each other in their genesis and also incommensurable in their historical set; they are not even classifiable but only taxonomisable in a strict sense. Each of us lives and interprets his own world; when comparing, we attempt at putting all of them in a common hat, while none of us can transcend the symbolic paradox of "I interpret your culture through my culture". A way out, if at all, can only result from their individual parallel characterisation, when we build up some kind of abstract philosophical universality from the ideals of order concerned. In the context of the Self, on the one hand, and of You, on the other, we are expected not only to explain the Other, but also to recognise it by its own right. Accordingly, legal comparison aims at getting knowledge not only of 'law in books' and 'law in action' but about what is meant by law when it works in the mind. All in all, comparison comprises, in addition to the mere act of taking cognisance, also the acceptance of this Other by its own right, in which no entity involved is simply reduced to anything purely factual ("what is the law?"), but the actuality of the entire normative process leading to a legal statement ("how do we think in law?") is considered. Getting to know any foreign law begins with the grouping of laws and, expressed in terms of belonging to legal families, by combining those which are similar and contrasting those which are dissimilar. Their interaction and mixing are part of their life, but establishing their occurrence cannot substitute to the didactic necessity and explanatory power of analysing them in term of legal families as well. When describing them, mere contrast or parallelism is to be completed by showing up the specific field and way of ingenuity each of them may have in comparison to others, as their individual contribution to the cultural production of the humanity.