17-06-2016 | LIFE CYCLE SUSTAINABILITY ASSESSMENT | Issue 2/2017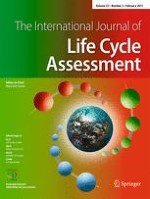 Comparative life-cycle impact assessment of concrete manufacturing in Singapore
Authors:

Aysegul Petek Gursel, Claudia Ostertag
Important notes
Responsible editor: Shabbir Gheewala
Abstract
Purpose
For countries like Singapore that is highly dependent on imported goods, it is essential to consider the consequences of consumption of imported cement and other concrete constituents for a fair carbon trading at global and regional levels. Recently, as a result of reduction in trade barriers and costs of materials and fuels, Singapore does not have much incentive in reducing environmental impacts of these imported goods. However, Singapore has set high environmental targets nationally to reduce impacts from building and construction. In addition to its national efforts, Singapore also needs to take action in trade-related consequences of importing energy-intensive products like cement and aggregates to Singapore. The purpose of this study is to quantify and suggest alternatives for reducing the embodied energy and life-cycle impacts of concrete consumption in Singapore on the basis of current trading volumes of these materials from Singapore's importers.
Methods
A detailed life-cycle assessment of concrete manufacturing in Singapore is performed to suggest possible ways to reduce the environmental impacts from importing cement and aggregates from Singapore's trade partners based on an earlier life-cycle inventory developed for Singapore and its neighboring countries. Life-cycle impact assessment (LCIA) impact characterization factors are based on a midpoint-oriented and hierarchist approach as defined by ReCiPe method. Following the LCIA, a scenario analysis is conducted to select the best combination of cement and aggregate importers of Singapore based on their environmental performance.
Results and discussion
Results from the scenario analysis show that overall impacts can be reduced by importing the materials from a nearer source with efficient production technologies and greener fuel mixes. About 10–34 % reduction is estimated in embodied energy, acidification, eutrophication, global warming potential, smog, and health impacts by importing from a closer and technologically greener source.
Conclusions
Despite the limitations due to data and modeling uncertainties, this study constitutes a baseline/benchmark for addressing the current cement and aggregate markets and associated environmental impacts of concrete consumption in Singapore based on historical import quantities of cement and aggregates from neighboring countries of Singapore. In the near future, policy-related action would be influential in achieving Singapore's national and global environmental targets in buildings and construction sector. Incorporation of an LCA approach into Green Mark Scheme (GMS) by the Building and Construction Authority (BCA) is recommended for Singapore to comply both with its national goals and with its new climate action plan to the UN Framework Convention on Climate Change.