30-07-2019 | Original | Issue 5/2019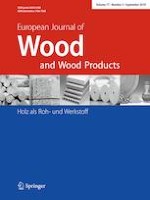 Comparative study on radical scavenging activity and phenolic compounds content in water bark extracts of alder (
Alnus glutinosa

(L.) Gaertn.), oak (

Quercus robur

L.) and pine (

Pinus sylvestris

L.)
Authors:

L. Skrypnik, N. Grigorev, D. Michailov, M. Antipina, M. Danilova, A. Pungin
Important notes
Publisher's Note
Springer Nature remains neutral with regard to jurisdictional claims in published maps and institutional affiliations.
Abstract
The radical scavenging activity and the content of proanthocyanidins, tannins, flavonoids, and total phenolic compounds in water extracts from whole bark and outer bark of alder (
Alnus glutinosa
(L.) Gaertn.), oak (
Quercus robur
L.) and pine (
Pinus sylvestris
L.) trees growing in the coastal and continental zones in Kaliningrad region (Russia) were evaluated. The content of proanthocyanidins was highest in extracts from whole alder bark collected in continental zone (3.8 ± 1.2 mg g
−1
), which was 34–38 times more than in outer part. No significant difference in tannin content in alder and oak bark extracts was revealed. Pine bark samples had less tannins. The whole alder bark showed higher content of flavonoids (9.7–21.5 mg g
−1
), compared to oak bark (7.2–8.4 mg g
−1
) and, in particular, pine bark (2.1–5.2 mg g
−1
). The maximal total phenolic content was found in whole alder bark from continental zone (29.0 ± 5.3 mg g
−1
). High content of phenolic compounds was determined in whole oak bark (about 18.1 ± 3.5 mg g
−1
). All investigated species showed approximately 1.3–2.5 times lower total phenolic content in outer bark in comparison to whole bark. Maximal radical scavenging activity of alder extracts (up to 276 ± 29 mg g
−1
) and minimal of pine extracts (up to 23.8 ± 4.0 mg g
−1
) was established. A higher level of radical scavenging activity for all samples from continental zone in comparison to samples from coastal zone was revealed. Based on the results of a cluster analysis, it was first demonstrated that the phenolic compounds content and radical scavenging of bark extracts are influenced by a complex of factors, such as tree species, part of the bark and the place of growth. The results of this study proved that whole bark of alder may be considered as a valuable source of phenolic compounds with radical scavenging properties.