Published in: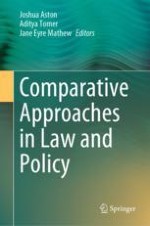 2023 | OriginalPaper | Chapter
Comparing Constitutionally: Modes of Comparison
Abstract
Comparative Constitutional is a modern discipline which aims to enrich the contextual aspects of Constitutional Law. As the area of Comparative law is an emerging field it is pertinent to know the different modes of comparison so as to arrive at correct evaluations and minimise the pitfalls in comparative insights. The need for understand the different modes of comparison is emphasised in this paper along with the caution that ought to be taken.