01-07-2020 | Original Research | Issue 13/2020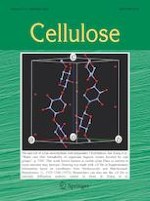 Comparison of alkali treatments on selected chemical, physical and mechanical properties of grape cane fibers
Journal:
Authors:

Balkis F. A. Bakar, Frederick A. Kamke
Important notes
Publisher's Note
Springer Nature remains neutral with regard to jurisdictional claims in published maps and institutional affiliations.
Abstract
Grape cane is a necessary annual by-product of a vineyard. It is available in large quantities, an estimated 9 million tons (oven-dry weight) annually, having approximately 18 million acres worldwide. There is currently no substantial commercial utilization of grape cane fiber, with the majority incinerated. The main objective of the current study is to characterize grape cane fibers extracted at different alkali treatment concentrations and to determine the optimum treatment concentrations that can produce better fiber properties. The fibers were treated at 1, 3, 5 and 7 wt% of sodium hydroxide (NaOH) at 100 °C for 2 h. The grape cane fibers can be categorized into two types, namely outer bark (OB) and inner bark (IB) fiber after the treatment process. Aspect ratio, chemical composition, crystallinity, changes in the functional groups using FTIR, and tensile properties of OB and IB fibers were investigated. The results show that these two fibers demonstrated dissimilar anatomical structures, cell types, cell dimensions, and tensile properties. Meanwhile, the chemical compositions and crystallinity are equivalent to each other. The overall properties of both fibers were found superior at the lower treatment concentrations.