2021 | OriginalPaper | Chapter
Comparison of Fixed and Variable Speed Pumps Under Consideration of Manufacturer and Operator Aspects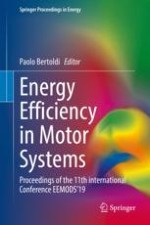 Read first chapter
Authors: Sebastian Bold, Vincent Becker, Sven Urschel, Jochen Schaab
Publisher: Springer International Publishing
Abstract
Pumps are among the largest energy consumers in the industry and household sector. The operating point of a process is the decisive criterion for a plant operator when purchasing a pump system. To adjust the desired operating point of the pump, various methods are available. With the increasing number of variable speed drives, there is now another possibility to adjust the operating point. This study examines the effects of the use of variable speed drives on operators and manufacturers.
For the operator, safe and energy-efficient operation of the pumps is particularly important. In order to carry out investigations here, a concrete application example is considered from the operators' point of view. Two adjacent pump sizes are selected from a pump type series of a pump manufacturer and the smaller one is also operated with a variable speed drive. The measurement of these pump configurations shows that the variable speed operation of the pump is up to 6% more efficient than conventional operation.
For the pump manufacturer, cost-efficient production and high product quality are important. With the help of variable speed drives, pumps can cover a larger operating area. This enables pump manufacturers to reduce their product range, which positively affects not only resource efficiency but also production and warehousing costs. In the application case it is shown that 71% of the pump sizes can be saved without any loss in efficiency.
The conclusions elaborated in this study will help both plant operators and manufacturers to decide on the best way forward in terms of energy, resource and cost efficiency.