26-07-2021 | Regular Paper | Issue 6/2021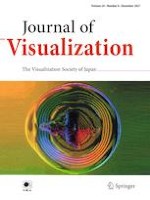 Comparison of three-dimensional density distribution of numerical and experimental analysis for twin jets
Journal:
Authors:

Chungil Lee, Yuta Ozawa, Takanori Haga, Taku Nonomura, Keisuke Asai
Important notes
Publisher's Note
Springer Nature remains neutral with regard to jurisdictional claims in published maps and institutional affiliations.
Abstract
Three-dimensional density fields of the twin jets were numerically and experimentally investigated. The present study focused on the comparison of the density distribution for the twin jets. The results obtained by the computational fluid dynamics (CFD) and three-dimensional background-oriented schlieren (3D-BOS) indicate that the periodic density fluctuation appears in the potential core each nozzle, and the flow structure of the twin jets is quite similar. The distribution of the normalized density value at the nozzle centerline agrees well with CFD and 3D-BOS. The density value of the shear layer between the nozzles increases as the interaction of the twin jets occurs. The trend of increasing and decreasing the interference between the nozzles was almost the same as each other. On the other hand, the position where the interaction of the twin jets starts and the growth rate of interaction were different. This is probably due to the effect of the laminar-to-turbulent transition occurred in the results of CFD. This result indicates that the laminar-to-turbulent transition can be estimated from the velocity fields obtained by CFD and particle image velocimetry (PIV).
Graphic Abstract
×