Published in: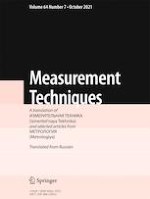 02-12-2021 | INTERNATIONAL COLLABORATION
Comparisons of National Standards of the Unit of Length in the Field of Measuring the Parameters of Deviation from Flatness of Optical Surfaces Coomet.L-S15
Published in: Measurement Techniques | Issue 7/2021
Login to get access
Abstract
Precision interference measurements of the shape parameters of optical surfaces are one of the most important types of measurements in the field of geometric quantities. In the countries participating in this research, special primary standards are involved in the reproduction and transmission of a unit of length to measuring instruments. To declare and confirm the measuring and calibration capabilities of the national metrological institutes of Belarus, Russia and Ukraine in the field of interference measurements of the parameters of deviation from flatness in the period of 2015–2018, additional comparisons COOMET.L-S15 have been carried out. The article presents the results of these comparisons. In accordance with the current rules, in 2020, the International Bureau of Weights and Measures, based on the data on the examination of the results of comparisons carried out by leading experts from a number of regional metrological organizations, introduced data on the results obtained into the international database CIPM MRA. The results of the comparisons allowed Belarus and Russia to declare, and Ukraine to confirm their measuring and calibration capabilities in the CIPM MRA database.