2014 | OriginalPaper | Chapter
10. Comparisons with Numerical Data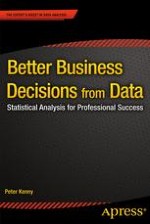 Read first chapter
Are Today's Chocolate Bars Smaller Than Yesterday's?
Author: Peter Kenny
Publisher: Apress
Abstract
Once a numerical sample or population has been characterized in a quantifiable way, as shown in
Chapter 7
, it can be compared with others to seek differences or similarities. This chapter explains what can be learned from single values, pairs of values, pairs of samples, and sets of samples. In each case, the null hypothesis, that no difference is evidenced, is set up; and, by calculating the appropriate test statistic, it is established whether the null hypothesis should be accepted or not.