11-11-2017 | Issue 3/2018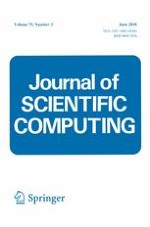 Computations of Optimal Transport Distance with Fisher Information Regularization
Journal:
Authors:

Wuchen Li, Penghang Yin, Stanley Osher
Important notes
This work is partially supported by ONR Grants N000141410683, N000141210838 and DOE Grant DE-SC00183838.
Abstract
We propose a fast algorithm to approximate the optimal transport distance. The main idea is to add a Fisher information regularization into the dynamical setting of the problem, originated by Benamou and Brenier. The regularized problem is shown to be smooth and strictly convex, thus many classical fast algorithms are available. In this paper, we adopt Newton's method, which converges to the minimizer with a quadratic rate. Several numerical examples are provided.