04-08-2017 | Issue 4/2018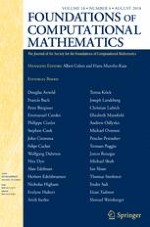 Computing the Homology of Real Projective Sets
Authors:

Felipe Cucker, Teresa Krick, Michael Shub
Important notes
Communicated by Shmuel Weinberger.
Felipe Cucker partially supported by a GRF Grant from the Research Grants Council of the Hong Kong SAR (Project Number CityU 11310716). Teresa Krick partially supported by Grants BID-PICT-2013-0294, UBACyT-2014-2017-20020130100143BA and PIP-CONICET 2014-2016-11220130100073CO.
Abstract
We describe and analyze a numerical algorithm for computing the homology (Betti numbers and torsion coefficients) of real projective varieties. Here numerical means that the algorithm is numerically stable (in a sense to be made precise). Its cost depends on the condition of the input as well as on its size and is singly exponential in the number of variables (the dimension of the ambient space) and polynomial in the condition and the degrees of the defining polynomials. In addition, we show that outside of an exceptional set of measure exponentially small in the size of the data, the algorithm takes exponential time.