01-06-2015 | Report | Issue 4/2015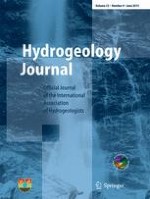 Conceptual groundwater flow model of the Mekelle Paleozoic–Mesozoic sedimentary outlier and surroundings (northern Ethiopia) using environmental isotopes and dissolved ions
Journal:
Authors:

Ermias Girmay, Tenalem Ayenew, Seifu Kebede, Mulugeta Alene, Stefan Wohnlich, Frank Wisotzky
Important notes
Electronic supplementary material
The online version of this article (doi:
10.​1007/​s10040-015-1243-4
) contains supplementary material, which is available to authorized users.
Abstract
A wide range of lithologic units and tectonic disturbances by cross-cutting faults and folds has resulted in the quite complex hydrogeological setting of the sedimentary outlier and its surroundings at Mekelle, northern Ethiopia. The environmental isotopes of oxygen and hydrogen and patterns of dissolved ion concentrations in the groundwater, coupled with understanding of the three-dimensional geological framework, are used to conceptualize the groundwater flow model and recharge–discharge mechanisms in the area. In agreement with the piezometric-surface map, recharge areas are determined to be the highlands (northwest, north, east and south of the study area), characterized by relatively more depleted isotopic compositions, higher d-excess, and lower concentrations of dissolved ions in the groundwater samples; the narrow major river valleys of Giba, Illala, Chelekot and Faucea Mariam are discharge areas. The groundwater divide between the Tekeze and the Denakil basins coincides with the surface-water divide line of these two basins. In most cases, groundwater feeds the semi-perennial streams and rivers in the area. However, isotopic signatures in some wells indicate that there are localities where river flow and seepage from micro-dams locally feed the adjacent aquifers. The lithostratigraphic, geomorphologic, isotopic and hydrochemical settings observed in this study indicate that three groundwater flow systems (shallow/local, intermediate and deep/semi-regional) can exist here. Tritium data indicate that the groundwater in the study area has generally short residence time and is dependent on modern precipitation.