2015 | OriginalPaper | Chapter
5. Conclusions and Suggestions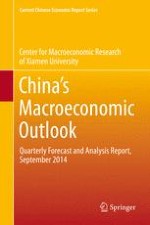 Read first chapter
Author: Center for Macroeconomic Research of Xiamen University
Publisher: Springer Berlin Heidelberg
Abstract
In 2014, the decreasing trend of economy growth will continue. In the first half year of 2014, compared with the same period of the last year, the GDP grew 7.4 %, which was the lowest for the past 4 years.
In the past 3 years, the central government has been applying the micro-stimulus and targeted easing policies to relieve downward pressure of China's economy, and to maintain growth above 7.5 %. The effects of micro-stimulus policies on economy growth are continuously diminishing:
Based on the features of the economy circle and the economy of "the new normal", China should appropriately set a lower economic growth target, which will be conducive to appropriately reduce the government intervention of market, and help to greatly cut the cost of macroeconomic controls and operations. Thus, we need to investigate the effects of giving up micro-stimulus policies and reducing the economic growth target on other major macroeconomic indicators.