19-10-2021 | Original Paper | Issue 14/2021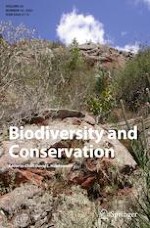 Conservation conflicts and their drivers in different protected area management groups: a case study in Brazil
Journal:
Authors:

Wanderley Jorge da Silveira-Junior, Cléber Rodrigo de Souza, Ravi Fernandes Mariano, Carolina Corrêa Santos Moura, Carolina Costa Rodrigues, Marco Aurélio Leite Fontes
Important notes
Communicated by Anurag chaurasia.
Supplementary Information
This article belongs to the Topical Collection: Biodiversity appreciation and engagement.
Publisher's Note
Springer Nature remains neutral with regard to jurisdictional claims in published maps and institutional affiliations.
Abstract
The restriction of access to natural resources by human populations due to the establishment and management of protected areas (PAs) can spark conservation conflicts (CCs) and undermine PA objectives. PAs have different management objectives and restriction levels; therefore, understanding the drivers, and the occurrence and importance of CCs in different groups of PAs is essential for conflict management. Herein, we built a conservation conflict hierarchical matrix (CCHM) using the information provided by the managers of 76 PAs in Brazil. We found that the restrictiveness of the PAs influenced the occurrence of CCs. We also found that the occurrence values of the CCs were lower in the Private Natural Heritage Reserves (PNHRs) compared to the values observed for the CCs in the full protection and sustainable use groups, which did not differ from each other. In addition, we noted that sustainable use PA managers indicated higher relative values of importance for most CCs compared to those indicated by full protection PA and private reserve managers. We also found that the drivers of the main conflicts depend on PA restrictiveness and that managers refer to environmental education as the main strategy to mitigate the conflicts. We concluded that different restriction levels in PAs promote different CC patterns and their respective drivers. Finally, given the different contexts and CCs experienced in different PAs, our results suggest that a collaborative approach between stakeholders using the CCHM can be beneficial to the management of local CCs.