Published in: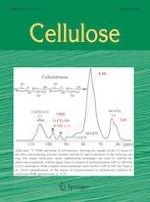 25-01-2022 | Original Research
Construction of hydrogels based on the chitin from
Hericium erinaceus

residue: role of molecular weight

Published in: Cellulose | Issue 4/2022

Login to get access
Abstract
Chitin hydrogels with different molecular weight (Mw) were prepared by the ultrasonic degradation of chitin from
Hericium erinaceus
residue. The effects of Mw on the properties of the prepared chitin hydrogels were investigated. Results showed that the Mw of chitin was decreasing with the prolongation of the ultrasonic time. As the decrease of Mw, the gel strength of the chitin hydrogels weakened, whereas the swelling degree was enhanced. In addition, the formation of chitin hydrogels was through cross-linking the smallest nano-scale solid domains, whose size was not affected by the Mw of chitin, whereas the gel yield of the chitin hydrogels was decreasing as the Mw of chitin decreased. Therefore, decreasing the Mw of chitin reduced the amount of effective chitin that can participate in the cross-linking reaction, thereby reducing the gel yield and the cross-linking density of the chitin hydrogels, resulting in the weakened gel strength but enhanced swelling degree.