2006 | OriginalPaper | Chapter
Consultation and public involvement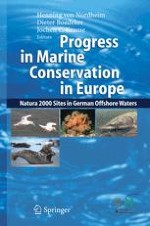 Read first chapter
Author: Annika Wallaschek
Publisher: Springer Berlin Heidelberg
The amendment to the German Federal Nature Conservation Act (BNatSchG) in April 2002 established a national legal framework for the implementation of the European Birds Directive and the Habitats Directive beyond Territorial Waters into the German Exclusive Economic Zone (EEZ). Responsibility for the selection, designation and management of these marine NATURA 2000 areas lies with the Federal Government. In selecting the protected areas in accordance with Article 38(2) of the German Federal Nature Conservation Act, the Federal Environment Ministry consults relevant Federal ministries from the adjacent coastal Länder as well as the general public. The proposed areas were listed and mapped on the Internet under www.
HabitatMareNATURA2000
.de. The list was also published through newspaper advertisements and press releases in November 2003. These initiated the participation process of the public. Each citizen had the opportunity to submit a written comment or to contribute to the expert debate in public. For that purpose, three public hearing dates were held in the coastal Länder in December 2003. The federal ministries were involved in 2003 and once again involved from the beginning of 2004. The final proposals for NATURA 2000 sites (proposed Sites of Community Importance, pSCIs) were submitted to the European Commission in May 2004.