2009 | OriginalPaper | Chapter
Content-Based Personalization Services Integrating Folksonomies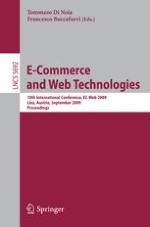 Read first chapter
Authors: Cataldo Musto, Fedelucio Narducci, Pasquale Lops, Marco de Gemmis, Giovanni Semeraro
Publisher: Springer Berlin Heidelberg
Basic content-based personalization consists in matching up the attributes of a user profile, in which preferences and interests are stored, with the attributes of a content object. The Web 2.0 (r)evolution has changed the game for personalization, from 'elitary' Web 1.0, written by few and read by many, to web content generated by everyone (
user-generated content
- UGC), since the role of people has evolved from passive consumers of information to that of active contributors.
One of the forms of UGC that has drawn most attention of the research community is folksonomy, a taxonomy generated by users who collaboratively annotate and categorize resources of interests with freely chosen keywords called tags.
FIRSt (
F
olksonomy-based
I
tem
R
ecommender sy
St
em) is a content-based recommender system developed at the University of Bari which integrates UGC (through social tagging) in a classic content-based model, letting users express their preferences for items by entering a numerical rating as well as to annotate rated items with free tags. FIRSt is capable of providing recommendations for items in several domains (e.g., movies, music, books), provided that descriptions of items are available as text documents (e.g. plot summaries, reviews, short abstracts). This paper describes the system general architecture and user modeling approach, showing how this recommendation model has been applied to recommend the artworks located at the Vatican Picture Gallery (Pinacoteca Vaticana), providing users with a personalized museum tour tailored on their tastes.