31-08-2020 | Original Paper | Issue 1/2021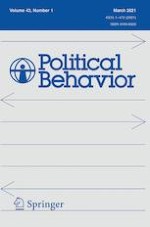 Controversy and Costs: Investigating the Consensus on American Voter ID Laws
Journal:
Authors:

John V. Kane, David C. Wilson
Important notes
Electronic supplementary material
Publisher's Note
Springer Nature remains neutral with regard to jurisdictional claims in published maps and institutional affiliations.
Abstract
Voter identification laws (VID) potentially affect who votes and who wins elections, making debates about them highly contentious among national elites and state legislatures. Yet the debate is far more muted among members of the public, with over three quarters of Americans supporting a photo identification requirement to vote, including majorities of both Democrats and Republicans. Research points to several factors that affect opinion on VID; however, these studies have not led to a theoretical framework for understanding the broad consensus of public support. We propose that the public generally views policies requiring ID to vote as commonsensical, uncontroversial, and essentially costless insofar as most people (likely) possess the necessary ID. These perceptions, we argue, undergird the sizable public consensus on VID. If true, then when presented with dissonant information cueing controversy and increasing the costs of compliance with the law, we should expect support to substantially decline. We test these hypotheses using observational and experimental data. We find that citizens are significantly less supportive of an ID requirement upon learning of lower public support, and become dramatically less supportive when obtaining such identification involves some degree of cost. This latter result also holds among Republicans—a group that has long-been exceptionally supportive of VID. We conclude that the strong public consensus on voter ID is, in large part, a result of its costlessness to most citizens combined with limited familiarity with the policy, its controversial nature, and the costs potentially incurred by other citizens to comply with the law.