04-06-2019 | Original Paper | Issue 4/2020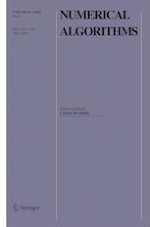 Convergence of a hybrid viscosity approximation method for finding zeros of m-accretive operators
Journal:
Authors:

Nguyen Thi Thu Thuy, Pham Thanh Hieu, J. J. Strodiot
Important notes
Publisher's note
Springer Nature remains neutral with regard to jurisdictional claims in published maps and institutional affiliations.
Abstract
For finding a zero of an
m
-accretive operator in a real Banach space, we consider an implicit hybrid viscosity approximation method and show that its explicit variant converges strongly to a zero under weaker assumptions than the ones used recently by Ceng et al. (Numer. Func. Anal. Opt.
35
(2), 142–165,
2012
). First, we examine the case of spaces which are uniformly smooth or reflexive and strictly convex with a uniformly Gâteaux differentiable norm. Afterwards, we improve our convergence results when the space is uniformly convex. Furthermore, we show that the strong convergence of some modified Halpern and Krasnosel'skii–Mann type methods can also be deduced from our results. Finally, a numerical example is also given to illustrate the convergence analysis of the considered method.