17-10-2019 | Issue 3/2021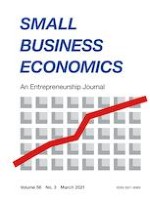 Corporate entrepreneurship, product innovation, and knowledge conversion: the role of digital platforms
Journal:
Authors:

Wissal Ben Arfi, Lubica Hikkerova
Important notes
Publisher's note
Springer Nature remains neutral with regard to jurisdictional claims in published maps and institutional affiliations.
Abstract
In recent years, research on corporate entrepreneurship (CE) has expanded and aroused an increasing amount of attention. Although the importance of CE, innovation, and knowledge conversion within organizations is recognized, the link between them is still theoretically and empirically little understood. Thus, it seems important to support knowledge sharing (KS) within organizations through the implementation of digital platforms (DP), in order to enrich the existing knowledge about CE strategy and product innovation (PI). Indeed, the rise of Internet and ICTs, alongside the development of the sharing economy, has enabled organizations to be connected with suppliers and consumers and other actors through DPs. The current paper therefore aims to understand and contribute to the literature about how CE, through the implementation of DPs, enhances product innovation. This is done using an exploratory longitudinal study, drawing on multiple case studies. Specifically, a variety of data sources collected within three Tunisian SMEs operating in the sector of dairy products are analyzed. The findings indicate the significance of DPs as a motivation, opportunity, and ability (MOA) framework. This enables a CE process and promotes a favorable climate wherein knowledge can be freely exchanged and captured, the process of organizational learning (OL) is well established, and the absorptive capacity of the company is optimized. Results indicate that CE affects product innovation and several conditions are recommended to ensure success.